The MOZART project involves 8 different countries and 11 partners, 5 high tech SMEs and 6 top European Universities. The concept behind MOZART is to develop a library of inorganic nanomatrices to be used as smart platforms for effective, non-invasive and highly targeted therapies to treat delayed bone healing and non-healing chronic skin wounds, which are both characterised by an inflammation and often infection. Mesoporous therapeutic glasses, doped with selected ions, will be synthesised and then loaded with the chosen payload. Ordered mesoporous carbons will also be manufactured to host a wide range of biomolecules and higher payload. As in an orchestra, where the integration among the different participants allows a harmonious symphony to be created, in MOZART the synergistic release of ions and drugs will be directed to achieve a radically improved therapeutic effect. Mozart aims to translate these new and innovative medical products into the clinic and market for the benefit of the patients and the industrial healthcare sector in Europe.
The potential impact of MOZART is enormous as in EU alone, 350 000 patients per year suffer delayed or non-union bone fractures and 2.2 million patients suffer from chronic non-healing wounds.
Workplan of the MOZART project
Research within MOZART will focus on the appropriate modification, optimisation and combination of novel inorganic nanomatrices towards the development of advanced medical devices that will be validated in the laboratories of the research centres (Technological Readiness Level, TRL4) and then produced at pilot scale at the industrial partner facilities, to reach TRL5 by the end of the project.
In order to guarantee the achievement of MOZART objectives and to efficiently manage the project complexity, a coherent work plan, over 4 years, has been developed.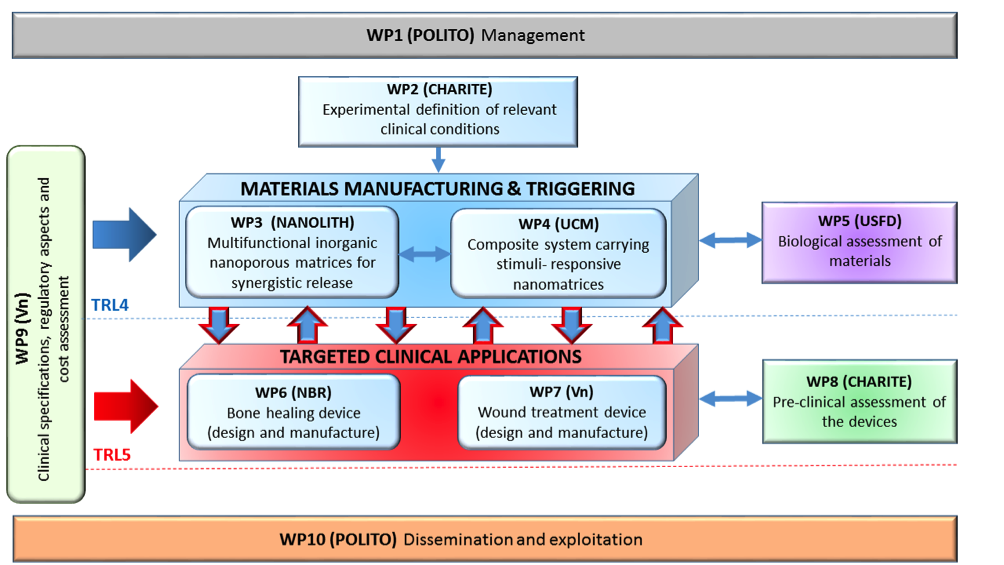 The MOZART value chain
The European healthcare sector will benefit from MOZART through a translation from lab scale-validated nanomatrices towards systems at a stage of industrial validation that makes their commercialisation within grasp.
The MOZART strategy lies in developing a strong partnership between the academic and private partners (ranging from small, highly technological companies to a provider of healthcare solutions) with the aim of creating value and of targeting the clinical demand chain. The consortium will seek an enhancement of the value chain through value creation for all the individuated segments.